Cheap flights from German cities to Morocco from only €17 roundtrip on with Ryanair. For Agadir you can book a roundtrip flights for less than €40 to try Surf lessons in Taghazout.
The AREA:
Taghazout coast reaches until the south from a rocky ledge, ideal for surfing and windsurfing. It is the best place in Morocco for surfing and it's considered the mecca of surfing in Africa.
BEST WEATHER CONDITIONS:
The best surf season is from October to May, but the incredible endless summer or weather conditions in this area allow you to learn to surf and practice yoga or improve your surfing any time of the year.
PS: Our packages include a pick-up service from Agadir Airport for free!
DEPART:
Dusseldorf/Frankfurt/Stuttgart/Memmingen, Germany
ARRIVE:
Nador/Agadir/Fez/Marrakesh, Morocco
RETURN:
Dusseldorf/Frankfurt/Stuttgart/Memmingen, Germany
DATES:
Availability from November 2018 to March 2019 (excluding Christmas/New Year)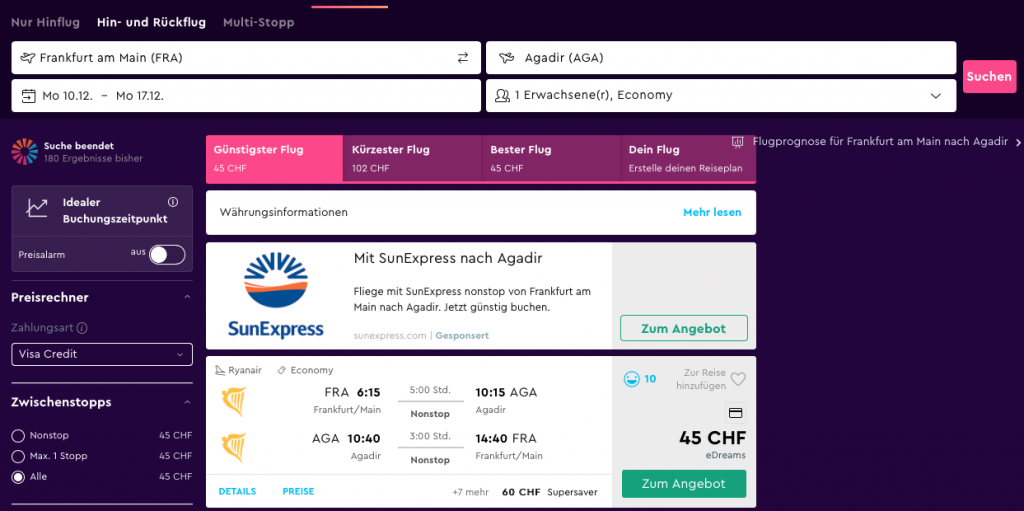 How to book:
The Ryanair website allows you to search each week with a single click so there is no need for a list of example dates from us.


However, do NOT purchase on the Ryanair website. Simply find the cheap dates, then purchase on the Momondo GO TO DEAL button below.
Momondo OTAs price these flights cheaper.

Cheap flights
Surf lessons level 1 – Beginners package
Surf lessons level 2 – improvers package